Insulating a home can be done in many ways and the first step is to ascertain which method of insulation suits your home the best. Once this has been decided, it's important to select the type of insulation product that will help you achieve the best result for cost-effectiveness, insulation efficiency and the looks of the final result. Insulating external walls, for example, will change the exterior of a property as the insulation needs to be rendered to protect the insulation from the weather. Internal wall insulation will change the style and the decoration of internal walls if the walls behind are solid or if you just choose to use something like insulated plasterboard on cavity walls.

Table of contents:
3. Choosing the right material for insulating a wall
---
External Wall Insulation
Insulating a wall externally has its fair share of benefits. Not only do you get the benefits of most of or all the work taking place outside your home, but you also get the benefit of not having to remove wall fixtures and fittings such as radiators and you won't need to worry about the décor in the room being affected either. External wall insulation surrounds the property in a thermal envelope, allowing the mass of the internal walls to act as a thermal store, contributing to a more energy-efficient and thoroughly insulated household.

Detailing around doors and windows, however, remains important to discourage thermal bridging and ensure that the insulation performs at its best. Insulating a wall externally can be somewhat costly as once the installation is glued or fixed onto the walls, the entire property will need to be rendered to cover the insulation for weatherproofing and for overall aesthetics. A benefit of this, however, is that if you're looking to change the outside appearance of a home anyway then you're getting twice the renovation work for your investment.
---
Internal Wall Insulation
Insulating a wall internally first needs to take into consideration whether the wall is a cavity wall or a solid wall. Cavity walls must be inspected by a professional, usually by making a small incision and putting a camera into the cavity, to determine if they're suitable to be insulated. If they are then this can be done without affecting the floor plan of the property that much. Solid walls, however, must be faced with an insulation product, so they can often eat into floor space depending on the thickness of the insulation as an air gap is needed to prevent condensation and moisture build-up. Insulation with a moisture barrier means you don't need to leave an air gap during installation. This can be achieved with several specialist products or with natural insulation, which is inherently moisture-wicking.
Internal Cavity Wall Insulation
As mentioned above, cavity walls need to be inspected before they can be insulated because if cavities are in poor condition it's not advisable to insulate them this way. If for example the brickwork is messy or there is mortar that has dripped to the bottom of the cavity, it's best to avoid cavity wall insulation and try a solid wall or external wall approach. You must also be cautious of any timber or steel frame construction as part of the property. The cavity is needed in this instance to allow moisture to escape so filling it with cavity wall insulation can cause problems including wet wall insulation which is notoriously dangerous, causing damp throughout the structure. Another element of cavity wall insulation to be cautious of is any wall that's facing the direction of driving rain. The map below, as provided by the NHBC, shows areas exposed to driving rain across the UK. Areas that are designated as 'severe' and 'very severe' must be extremely cautious in installing cavity wall insulation as the risk of rain penetrating brickwork and causing damp is higher.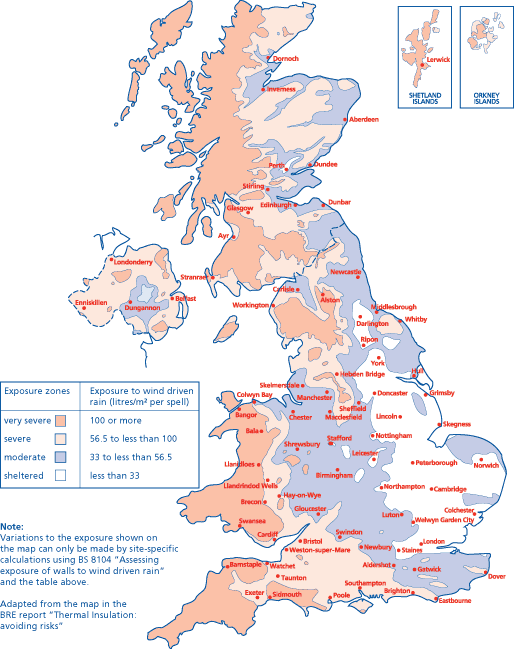 Internal Solid Wall Insulation
Properties built before the 1920s are more likely than not to have thick solid walls. When made from stone these walls can be up to 50cm thick so people often think that insulating them is not a possibility. Insulating solid walls can be done through various methods, the most common of which is to erect a stud wall on existing internal walls and insulate that with an insulation roll, insulation slab, or rigid insulation board. Another technique for insulating a solid wall is to install a stud wall of insulated plasterboard. After wall fittings like radiators are removed, plasterboard can be erected quickly and then decorated over without the need for wet plaster. It also can give benefits to the thinness of construction as less floor space is taken up by leaving air gaps between walls and standard insulation.
---
Choosing the Right Materials for Insulating A Wall
As previously covered, different types of walls need different types of insulation to be effectively and efficiently insulated. Insulating a wall with the wrong type of insulation can be a costly mistake as you could invite damp problems, structural problems and even fire hazards into your home.
Insulating a wall with insulation roll
Insulation roll is typically manufactured from glass wool, mineral roll and natural products such as sheep's wool. It's very easy to fit into accessible spaces so it's ideal for new builds and for retrofitting into loft spaces. Thanks to the fibres in most glass and mineral wool insulation roll you'll need PPE gear to protect from inhaling fibres or getting the fibres in your eyes. Sheep's wool and most other natural insulation roll types, however, are non-irritant so don't require any protective gear.
Natural insulation roll is moisture-wicking too, so you don't need to consider an air gap when insulating a wall with naturally made insulation roll.

Insulating a wall with insulation slab
Insulating a stud wall that's been built for solid wall insulation is easy with the use of insulation slab thanks to its semi-flexibility and rigidity. Known for its ability to be friction fit into 400mm and 600mm centres, insulation slab can be friction fit into a stud wall frame without the need for any fixings. It can just be pushed into place and then covered over with plasterboard. There are many non-igniting and fire-rated options available in the form of insulation slab too so using this insulation can provide a degree of safety and peace of mind for the whole family.
Insulating a wall with insulation board
Insulation boards have long since been a staple in the insulation industry. It has grown from offering standard, highly insulating boards to providing options that boast eco-friendly credentials, thin build-ups and even additional fire-resistant and acoustic properties. Insulation board makes covering large areas extremely quickly as they can be fixed in place and covered with plasterboard for a quick finish. Insulated plasterboard also offers users a range of similar benefits as the insulation and final plaster finish is rolled into one. This can have an impact on floor space in solid wall constructions as a thicker build-up is required to achieve the desired values but overall this can be an efficient method for time-saving.
---
Here at Insulation Superstore, we have experienced advisors that can offer sound and sensible advice in regards to your project. Trained by manufacturers with the technical knowledge required to assist you, contact our advisors with build specifications, a blueprint of what you're looking to achieve, or even just a broad idea of what your aim is. Contact our advisors by using our live chat in the bottom right-hand corner or by phoning us on 01752 692 206.
Was this guide useful?
Let us know if you liked the post. That's the only way we can improve.
Thanks for rating this article.
Mentioned in this project guide: