Reflective multifoil insulation was introduced to the UK building market in the mid-1990s as an innovative type of insulation material with very high thermal resistance.
At Insulation Superstore we are proud to offer a wide range of products from one of the UK's market leaders in multifoil insulation, SuperFOIL.
Their sustainable, easy-to-install products feature a three-in-one design (insulation, vapour control layer and radiant barrier), have fantastic U-values and suit all build types.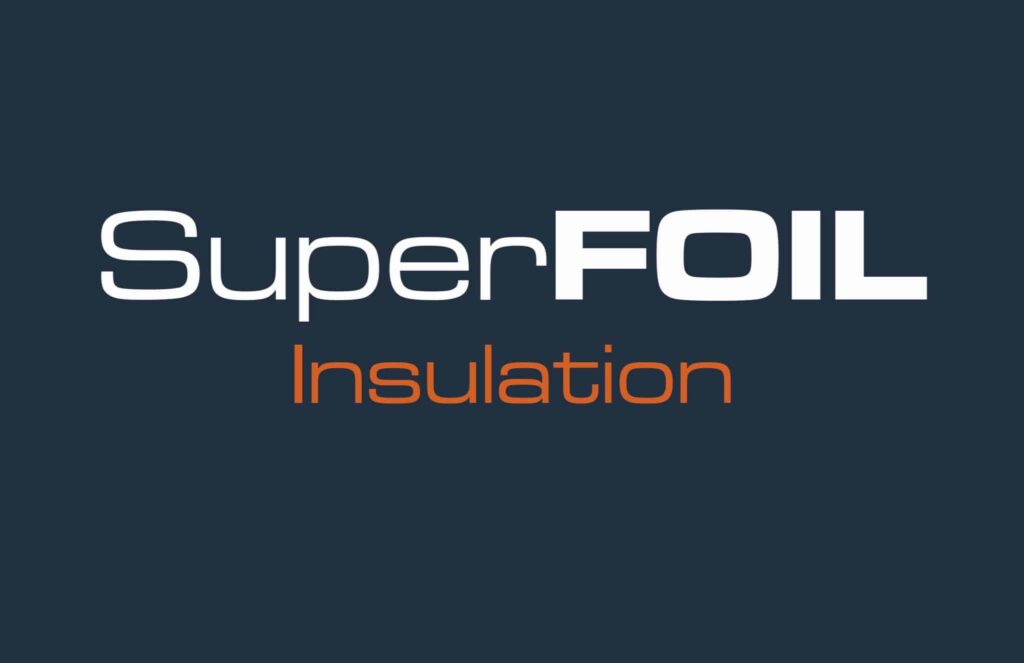 To help you get a better idea of the company's offerings, how they perform and what makes them stand out, we've prepared an extensive guide to SuperFOIL insulation.
Let's dive right in.
---
Table of contents:
---
SuperFOIL product history/development
SuperFOIL insulation emerged as a division of Boulder Developments Ltd in 2006 with the ambitious goal of offering good value, high-performance insulation solutions at the higher end of the market.
Since releasing their first product, the company have consistently pushed the envelope of foil insulation by developing and launching one of the most extensive ranges available on the market, including such hallmarks as SuperFOIL SF19, SuperFOIL SF40 and SuperFOIL SF60.
But wait! There's more:
In addition to the standard multifoil range, the company offers foil bubble insulation (SuperFOIL SFBA), non-combustible multi-layer foil insulation (SuperFOIL SFNC), general purpose thermal, vapour & air tightness barrier (SuperFOIL SFTV) and lots of other products for all your insulation needs.
Before we dig deep into the thermal performance of the main multifoil offerings, let's take a closer look at their various applications.
---
Typical SuperFOIL applications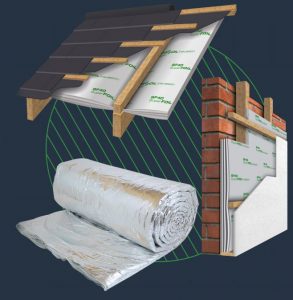 SuperFOIL's range of multifoil insulation solutions with vapour control is incredibly versatile and suitable for use in new builds and refurbishment projects of roofs, walls and floors.
Pitched roofing insulation
The foil insulation roll can be used as part of cold, warm or hybrid pitched roof system applications in either single or multiple layers, ensuring high thermal performance without too much thickness. Because it's extremely flexible, it will even work with traditional, non-reflective insulation, such as foam boards.
Here's an example of how effective this multi-layered insulation foil is:
Just two layers of SF40 added to the pitched roof area of Corwen Old Police Station, a Grade II listed historic building, during a recent renovation project achieved a U-value of 0.14 while keeping the structure thin enough to retain the all-important period features.
Flat roofing insulation
SuperFOIL's high-performance vapour control properties make it ideal insulation for a flat roof. What's more, continuous installation helps create a high-performance barrier, ensuring a minimum passage of vapour and very little condensation, if any.
Wall insulation
SuperFOIL insulation is suitable for use on both new builds and retrofit wall projects. As little as 70mm of SuperFOIL can boost a solid wall's performance from uninsulated to above current building regulations.
Going back to our earlier example of Corwen Old Police Station in the north of Wales:
A single layer of SF40 added to the walls during the same renovation project achieved a remarkable U-value of 0.23 without altering the period features in the slightest. In fact, you can check it out for yourself, as this beautiful old building which dates back to 1871 is now a luxury self-catering accommodation.
Floor insulation
To further emphasise the versatility of SuperFOIL's thermal insulation roll, we should point out that it also works wonders on suspended timber floors in particular. The multifoil range is a long-lasting, flexible solution that drastically reduces condensation and eliminates drafts with the help of only minimal insulation.
---
General principles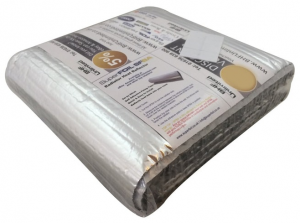 Thanks to the low emission coefficient of the foils in SuperFOIL's multifoil insulation range, radiation is greatly reduced. As we mentioned earlier, the three-in-one design combines insulation, a vapour control layer and a radiant barrier that together provide exceptional U-values. You can use the SuperFOIL U-value calculator to find the best solution for your project.
It gets better:
SuperFOIL's thermal wrap insulation can be used both internally and externally. It's even compatible with other insulation types, such as foam board and mineral wool.
What's more, SuperFOIL is sustainable, as it is made from 40% recycled materials. It's also fully recyclable at the end of its remarkable 50+ year lifespan, so you know it's environmentally friendly.
---
SuperFOIL product range
SuperFOIL's foil insulation rolls range includes SF6 (composed of 6 layers of interlaced materials), SF19+ (11 total layers), SF40 (37 total layers) and SF60 (53 total layers).
Their dimensions are as follows.
| SuperFOIL Product | SF6 | SF19+ | SF40 | SF60 |
| --- | --- | --- | --- | --- |
| Thickness | 30mm | 45mm | 65mm | 100mm |
| Length | 10m | 10m | 10m | 8m |
| Width | 1.2m | 1.2m/1.5m | 1.5m | 1.5m |
| Coverage | 12m2 | 12m2/15m2 | 15m2 | 12m2 |
| Weight | 5.5kg | 10kg/13kg | 17.5kg | 17.75kg |
And here is their impressive thermal performance. The R-value measures resistance to heat flow. The higher it is, the more insulating the product is.
| SuperFOIL Product | FS6 | SF19+ | SF40 | SF60 |
| --- | --- | --- | --- | --- |
| Core Performance | 0.99 R-value | 1.63 R-value | 2.57 R-value | 3.58 R-value |
| Roof Performance | 1.90 R-value | 2.53 R-value | 3.47 R-value | 4.48 R-value |
| Wall Performance | 2.32 R-value | 2.97 R-value | 3.91 R-value | 4.92 R-value |
| Floor Performance | 3.64 R-value | 4.28 R-value | 5.22 R-value | 6.23 R-value |
| Emittance | 0.05 | 0.03 | 0.03 | 0.03 |
The key takeaway is:
The SuperFOIL multifoil insulation range has impressive thermal performance and negligible emittance along with minimum thickness – the best of both worlds.
---
Quality assurance
SuperFOIL's multifoil range is tested independently by notified bodies and certified third-party laboratories to ensure it's compliant with UK and European building regulations.
To guarantee quality assurance, the company has earned several accreditations from respected bodies like the BBA (British Board of Agrément), LABC (Local Authority Building Control), NHBC (National House Building Council) and others.
Some of these include:
BBA Agrément Certificate for Use in Roofs & Walls
LABC Registered Detail Assured
Approved by NHBC Standard & Warranties
Additionally, SuperFOIL is also happy to provide U-values for elemental or SAP assessment purposes free of charge.
---
On-site installation: How to fit multifoil insulation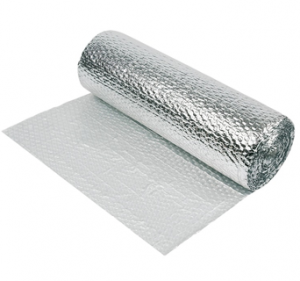 SuperFOIL products are easy to install, and you don't need to use any specialist tools when fitting them. Thanks to the clever design, there will be only minimal wastage.
Here's how to install SuperFOIL insulation on your roof:
Step 1: Roll out the foil.
Step 2: Use a staple gun to secure the foil to the rafters of your roof.
Step 3: Layer the foil to ensure maximum coverage.
Step 4: Tape the overlaps.
Step 5: Cut along the rafters to remove excess foil at the bottom of the roof.
Step 6: Staple the insulation to the wall plate.
Six simple steps – that's all it takes!
You can follow the same process to fit SuperFOIL's thin insulation to your walls or floors.
---
Conclusion
SuperFOIL's multifoil insulation range is a high-performance, elegant, easy-to-install solution ideal for use on your roofs, walls and floors.
Whether it's a new build or a retrofit, SuperFOIL has you covered and will deliver excellent performance over the course of its extensive lifespan of over 50 years.
If you're interested in alternatives to SuperFOIL, check out our Insulation buyer's guide.

Was this guide useful?
Let us know if you liked the post. That's the only way we can improve.
Thanks for rating this article.
Mentioned in this project guide: