Insulating a flat roof is a task that must be done during construction. Retrofitting flat roof insulation is a difficult task and often a messy one that involves pulling up the waterproof layer that finishes off the deck so as to put flat roof insulation in underneath. You will be unable to pass your building or extension through required regulations without flat roof insulation. Insulating a flat roof in the first instance is the best way to achieve a well-insulated, competent and good-looking structure.
---
Table of contents:
---
What are a warm roof deck and a cold roof deck?
A warm roof deck is the most common and most-preferred type of flat roof build-up in the UK. A flat roof where the insulation sits below the waterproof membrane and above the structural deck is a warm roof deck. Cold flat roofs are typically avoided as you'd need to install ventilation, which can prove problematic for many reasons relating to space, labour costs, etc. Warm flat roofs do not need to be ventilated as the insulation is above the structure.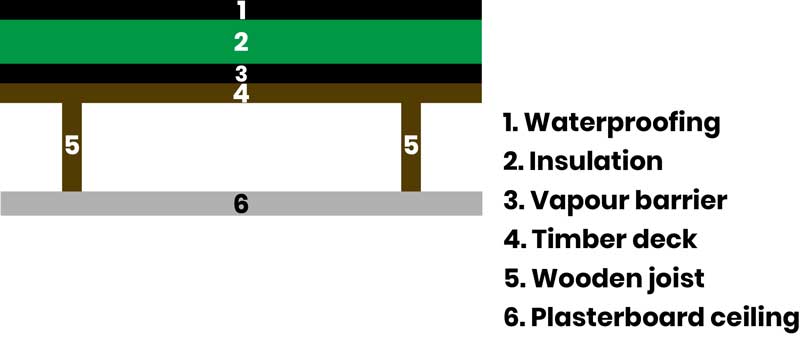 ---
How do you insulate a flat roof?
Insulating a flat roof is relatively simple in terms of what materials you need, and the steps taken to complete the job.
Install a vapour control layer to reduce the risk of condensation and moisture compromising the flat roof structure
Mark out on the vapour control layer where fixings will pierce the membrane (at rafter centres and at the correct axial spacing)
Place butyl tape at each point where the vapour control layer will be pierced so the tape forms a seal after penetration
Often dictated by the height available thanks to guttering, upstands and other adornments, lay rigid insulation board to the desired thickness
Install a second layer of plywood or OSB board
Fix the deck together with helical fixings, piercing each layer of the buildup including the flat roof insulation
Finally, install a waterproof membrane to finish off the deck and protect the build-up from wind and driven rain
---
What flat roof insulation should I use?
Using insulation board in a flat roofing insulation build-up is a widely accepted industry standard as it's one of the best weight-bearing insulation types. Whether the flat roof being installed will be walked on or not, flat roof insulation board typically has a hard-faced surface and good compressive strength both for extra stability and extra adhesion for the waterproof membrane.
Kingspan and Recticel are two of the most well-known flat roof insulation brands and they're firm favourites of Insulation Superstore customers.
Insulating a flat roof with Recticel Powerdeck U
Recticel's Powerdeck U offers a 0.024 U-value for thicknesses 120mm or more so it's a great thermal insulator as well as a strong and stable board for structural integrity. Powerdeck U can be used with hot-applied waterproof membranes like torch-on felt and mastic asphalt thanks to a bitumen glass fleece facing. Its moisture-resistant properties also make it an attractive selection for installing a warm flat roof as the material won't degrade if it gets slightly damp, allowing the insulation board to maintain its thermal properties and continue to insulate the flat roof.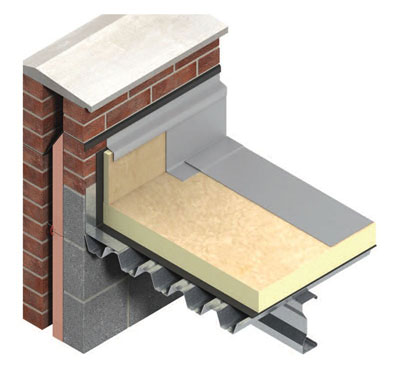 Insulating a flat roof with Kingspan Thermaroof
Kingspan has two somewhat similar flat roofing insulation products that come highly recommended by contractors and roofers alike. Kingspan Thermaroof TR26 and Kingspan Thermaroof TR27 are both high-performance PIR boards which are both approved for steel flat roof deck assemblies.
Thermaroof TR26 is designed for use with a mechanically fixed single-ply waterproofing membrane thanks to foil facings on both sides. It achieves a u-value of 0.022 and can be used in conjunction with green roof systems.
Thermaroof TR27 has glass tissue facings on either side of the flat roof insulation board which allow the product to offer u-values as low as 0.024. Excellent compressive strength and the coated glass tissue facings combine to make Thermaroof TR27 compatible with mechanically fixed single-ply waterproofing membranes and partially bonded built-up felt.
Flat roof insulation projects can be undertaken by capable DIYers looking to top out a garden building or small extension but we would recommend that if you're not fully confident with the process as above that you consult or employ a professional to undertake the work. Flat roof insulation can easily create leaks, moisture and damp if not done properly.
Not sure how to insulate a pitched roof? Our guidance for insulating a roof can help you out! Go ahead and check it out for help with your project.

Was this guide useful?
Let us know if you liked the post. That's the only way we can improve.
Thanks for rating this article.
Mentioned in this project guide: