Underfloor heating comes in a couple of forms that each have different advantages. Electric underfloor heating and water underfloor heating both offer a luxurious, value-adding style point to your home. This could make your home more attractive to potential buyers or renters and make your life more comfortable. No more cold winter mornings tip-toeing across stone tiles in the bathroom or kitchen, and no more radiators disrupting the interior style of a home either. Find out everything you need to know about underfloor heating below before you make any purchasing decisions.
---
Table of contents:
---
How does underfloor heating work?
There are two types of underfloor heating that homeowners can choose from, electric underfloor heating and water underfloor heating. Electric underfloor heating is known as dry underfloor heating and water underfloor heating is sometimes known as wet underfloor heating.
Electric underfloor heating
Electric underfloor heating works by installing a series of electric wires underneath the floor surface but above the floor insulation. Often available as a mat of wires so they're easy to roll out, electric underfloor heating uses mains electricity to evenly spread heat. A mat system is used, as in the image, as this ensures a fair spread of wires to ensure no cold patches.
Water underfloor heating
Water underfloor heating is the same concept as electric, only with water pipes connected to the boiler and a manifold. Pipework is laid above the floor insulation by a plumber and then connected. It's important to consider the importance of moisture-resistant insulation or pipe insulation in these instances to maintain and increase the efficiency of the insulation and the system itself.
---
Is underfloor heating worth it?
Underfloor heating is an additional expense to a home that already has radiators or some form of heating so people commonly ask 'is underfloor heating even worth it?'. The cost of installing and purchasing underfloor heating isn't just the only measure of its worth as really underfloor heating is a luxury product. For some people, the convenience of removing radiators throughout their home, or just in small rooms which proves tricky for design, means that underfloor heating is worth it. In a design-conscious home where removing a radiator could allow for a bath instead of just a shower, this is worth it.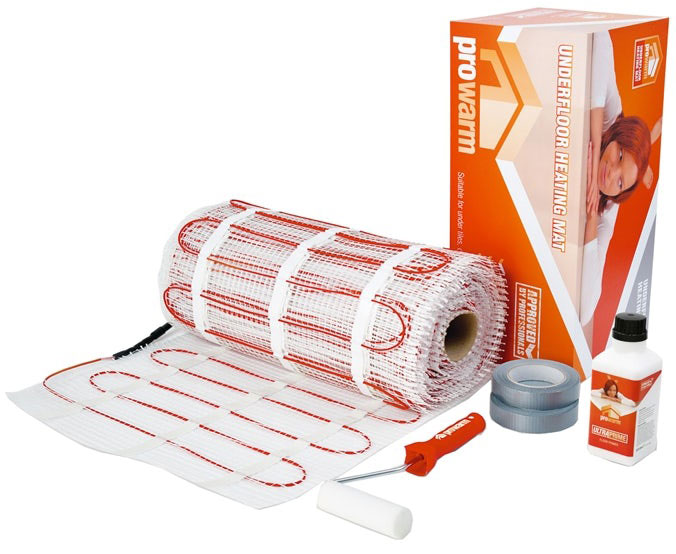 In terms of the actual cost of underfloor heating, if you're looking to heat one or two small rooms then electric underfloor heating would be worth it in terms of the average bills of the average household. If you're looking for a plan for your entire home, or for a large space like a kitchen diner, water underfloor heating comes into its own.
---

Which underfloor heating is best? Electric vs. Water
Whilst the underlying concept is the same, electric underfloor heating and water underfloor heating are quite different in their benefits and drawbacks. In the UK people more commonly have electric underfloor heating in just one or two rooms but the popularity of water underfloor heating is on the up. Below we explore the two and what they offer a user.
Ease of use
Both systems take advantage of a thermostat so you can see what temperature the system is running at and make changes to this. Water underfloor heating connects to a boiler a manifold is also installed which regulates the temperature to make sure it isn't too hot and connects all the pipes to the boiler. Both systems use a regulator of some sort and a thermostat so they're pretty much on par with ease of use.
Winner: Draw
Ease of installation
It's commonly advised that water underfloor heating is not a DIY job due to the specific nature and installation of a manifold. Perhaps you could lay the pipework where you'd like but connecting to a boiler and also doing other bits like bringing up the height of the floor to make room for pipes isn't DIY-recommended. Electric underfloor heating systems are easy to roll out yourself, they're thinner so there's no need to raise the height of the floor, and you can install this anywhere you can get an electricity supply. You do however need a qualified electrician to connect this up and certify it.
Winner: Electric underfloor heating
Efficiency and running
Water underfloor heating systems keep their water between 27 – 31 degrees centigrade to maintain the best actual floor temperature. It goes without saying that this temperature will vary dependent on floor type as heat may struggle to get through extra thick carpet for example. Due to this low running temperature, lower than radiators, water underfloor heating systems are often more efficient throughout a whole home than radiators are. Electric underfloor heating systems are more efficient for small areas as their running cost is higher.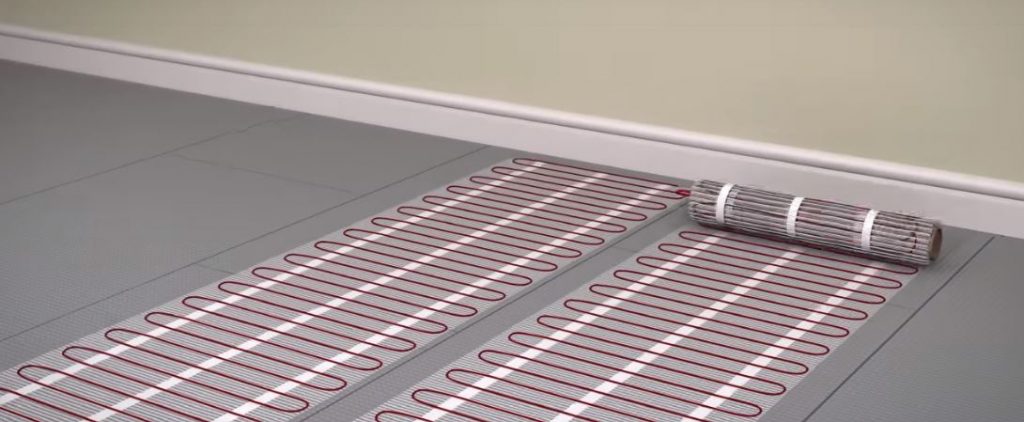 Winner: Electric underfloor heating for small areas
Winner: Water underfloor heating for large areas
---
What are the benefits of underfloor heating?
Underfloor heating is cosy and luxurious, bringing some more warmth and enjoyment to a frosty winter morning. Stepping on the bathroom tiles at 7am no longer needs to make you wince as your tiles are already warm and good to go. Your bathroom will be heated to a good temperature constantly so you won't be shivering fresh out of the shower either!
Underfloor heating in any form adds value to your home and removes the need for radiators which allows you to use space to its full potential. Removing radiators can be the difference between a bathroom or a shower room or if you're able to add a corner bath unit for extra luxury. It's a high-specification addition to the home that benefits those with cold stone or tile floors.

Was this guide useful?
Let us know if you liked the post. That's the only way we can improve.
Thanks for rating this article.
Mentioned in this project guide: